Canada's Renewable Power – Nunavut
Nunavut
With 25 communities each producing their own electricity, Nunavut is more of an "archipelago" rather than an "island" for an electricity system unlike the other two territories. Diesel fuel is used for generation in all communities, though solar and wind opportunities are increasingly being explored in the territory.
Generation Trends
Nunavut relies on diesel for electricity generation. Its geography, remoteness, and sparse and scattered population make the adoption of other technologies challenging. Each community in Nunavut relies on local diesel generators for electricity. Diesel fuel for these generators is imported from outside the territory during summer and then stored for use throughout the year. Total thermal generation in 2018 was 237 gigawatt-hours (GW.h), or 100% of total generation.
Qulliq Energy Corporation (QEC), Nunavut's energy utility, is seeking ways to increase renewable generation in the territory. In 2016, 11 solar panels were installed as a pilot project on the Iqaluit power plant. A 2016 study of the potential for wind energy in Nunavut produced a short list of five communities where wind energy could be viable.
Total electricity generation in Nunavut increased from 162 GW.h in 2010 to 237 GW.h in 2018. Changes in Nunavut's electricity generation mix are illustrated in Figure 1.
Figure 1. Electricity Generation in Nunavut
Source and Description

Source: CER – Canada's Energy Future 2020 (EF2020)

Description: This graph illustrates electricity generation from 2010 to 2018 in Nunavut. In 2010, Nunavut's total generation was 162 GW.h (0% renewable). In 2018, total generation was 237 GW.h (0% renewable).
GHG Emissions from Electricity Generation
In 2018, Nunavut's electricity sector emitted 0.16 megatonnes of carbon dioxide equivalent (MT of CO2e). Nunavut's generation intensity was 840 grams of CO2e per kilowatt-hour, the highest in Canada.
Nunavut produced 0.2% of Canada's total greenhouse gas emissions from electricity generation in 2018.
Recent and Projected Capacity Changes for Renewables
Between 2010 and 2017, Nunavut added less than 0.1 megawatts (MW) of new renewable capacity in the form of solar. Between 2017 and 2023, Nunavut is projected to add 1.2 MW of net renewables capacity. These capacity changes are illustrated in Figure 2 with data provided in Table 1.
In 2016, QEC installed 11 solar panels at one of its power plants in Iqaluit as a pilot project to research the viability of larger solar applications.
In the near future, diesel generators at or near the end of their life will be replaced in seven communities, including Kugluktuk, Rankin Inlet, Coral Harbour, Chesterfield Inlet, Pond Inlet, Clyde River, and Whale Cove. Kugluktuk will be the site of Nunavut's first diesel-solar hybrid facility. The project's initial start-up date of 2021 has been delayed until 2023.
A three-turbine wind farm has also been proposed for the Meliadine mine near Rankin Inlet. Wind turbines were installed previously in Cambridge Bay and Kugluktuk in the 1990s, and in Rankin Inlet in 2000. By 2002, none of the turbines were in operation.
Figure 2. Electricity Capacity and Future Changes in Nunavut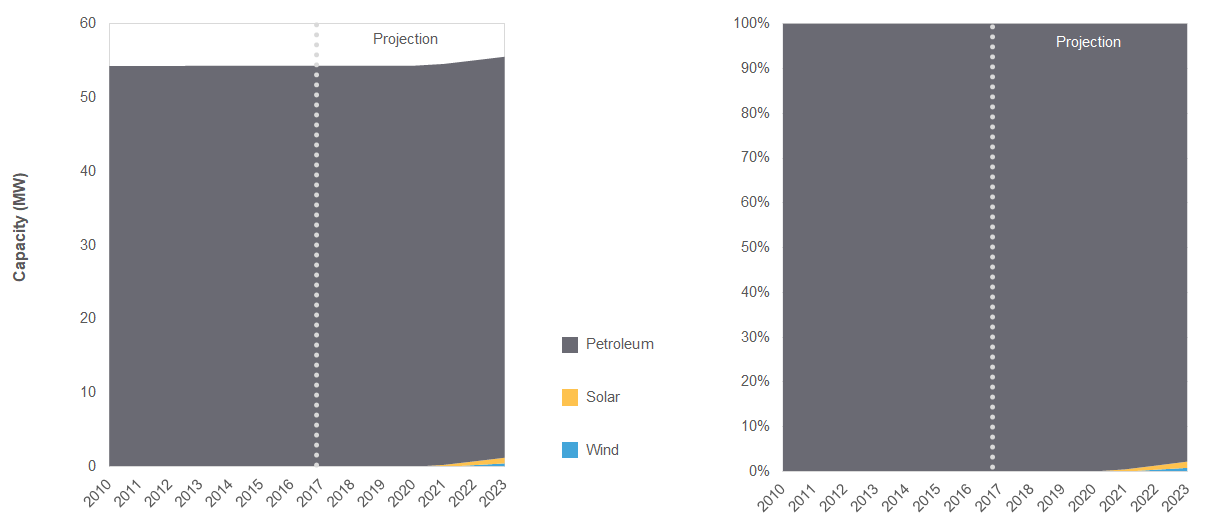 Source and Description

Source: CER – EF2020

Description: This graph illustrates historical electricity capacity from 2010 to 2017 in Nunavut and the CER's projection of future capacity changes from 2018 to 2023. In 2010, Nunavut's total installed electricity capacity was 54 MW (0% renewable). In 2017, capacity remained at 54 MW (0.1% renewable). By 2023, total capacity is projected to grow to 56 MW (2.3% renewable).
Table 1. Electricity Capacity (2010 – 2023) and Generation (2010 and 2018) in Nunavut
Capacity in MW and %
Generation in GW.h and %
2010
2017
2018
2020
2023
2010
2018
---------- Projected ----------
Wind
0.0
0.0
0.0
0.0
0.5
0.0
0.0
0.0%
0.0%
0.0%
0.0%
0.9%
0.0%
0.0%
Solar
0.0
0.0
0.0
0.0
0.8
0.0
0.0
0.0%
0.1%
0.1%
0.1%
1.4%
0.0%
0.0%
All Renewable Sources
0.0
0.0
0.0
0.0
1.2
0.0
0.0
0.0%
0.1%
0.1%
0.1%
2.3%
0.0%
0.0%
Oil and Diesel
54
54
54
54
54
162
237
100.0%
99.9%
99.9%
99.9%
97.7%
100.0%
100.0%
All Thermal Sources
54
54
54
54
54
162
237
100.0%
99.9%
99.9%
99.9%
97.7%
100.0%
100.0%
All Sources
54
54
54
54
56
162
237
Date modified: