Security
Threats, such as criminal or terrorist activity, can pose a real danger to Canada's energy supply. Because of that, companies must have detailed security management programs to protect pipelines and their operations. To help keep people safe and protect the environment, we regularly inspect and audit companies to confirm that these programs are in place.
What you need to know
Find out who to call if you notice suspicious activity or unusual behavior occurring at an energy facility.
Know who to call if you see an emergency in progress.
See how we expect companies to follow our regulations to ensure that security issues are being addressed.
Discover how we make sure companies follow regulations, address issues before they become a problem, and prevent them from happening again.
Learn how we share information with the companies that we regulate and other agencies and jurisdictions.
Report suspicious activity
Call the National Security Information Network at 1-800-420-5805 if you see suspicious activity at an energy facility.
Suspicious activities may include:
taking pictures, videos, or notes
asking suspicious questions about the facility, its staff or operations
threats against the facility or its employees
close surveillance or observation
acts of vandalism
suspicious or abandoned packages or deliveries
unauthorized persons on site or trying to access the site
unauthorized vehicles lingering or abandoned near the facility
lost or stolen employee keys or uniforms
Publications and reports
Emergencies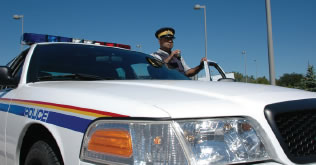 Call 911 or your local police department if it is an emergency or an act in progress.
What we expect
A company's security management program must consider what's being protected as well as its type, size, location, and level of importance. Companies must follow the regulations in place for addressing security issues.
Companies must be able to:
identify security risks
have strategies to prevent issues
develop and put plans in place quickly to respond
Regulations and guidance
Section 47.1 of the Onshore Pipeline Regulations...

Under this section of the regulations, we require companies to develop, implement, and maintain a security management program.
Section 6.5 of the Onshore Pipeline Regulations...

Security management programs must have all of the required processes listed in this section of the regulations.
Section 4(1)(e) of the Onshore Pipeline Regulations...

Under Section 4(1)(e) of the Onshore Pipeline Regulations, companies must follow CSA Z246.1: Security management for petroleum and natural gas industry systems to address security issues when they design, construct, operate, and abandon a pipeline.
Transportation Security Administration...

Several companies we regulate are also regulated in the U.S. and must follow guidelines that the Transportation Security Administration has set out.
Companies operating international power lines
The requirement to have a detailed security management plan does not apply for international power lines we regulate. However, companies operating international power lines must meet reliability standards set by provincial regulators.
Companies operating international power lines in Canada must follow the North American Electric Reliability Corporation's Critical Infrastructure Protection Security Standards, as adopted by provincial regulators. These standards ensure that all entities responsible for the reliability of the bulk electric system in North America identify and protect critical electricity assets.
Letter and Order MO-036-212 to certain International Power Line (IPL) companies under the jurisdiction of the National Energy Board...

On December 6th, 2012, we issued an order requiring mandatory reliability standards on certain international power line companies we regulate [Filing A49626]. The order addresses the regulatory gap for mandatory reliability standards that exists for IPL's between upstream provincial governance and downstream United States jurisdiction. The provision of the Order contain 12 reliability standards requirements which correspond to the main categories of the reliability standards developed by the North American Electric Reliability Corporation.
Compliance and Enforcement
We check to make sure companies are meeting our requirements, from when a company first applies to when a project ends. This may mean us asking for more information or doing an inspection or an audit. For companies that aren't meeting our standards and requirements, we'll take steps to enforce the requirements and bring the company back into compliance.
Learn more about how we verify compliance and enforce our requirements.
Sharing information
We promote security awareness and information sharing among our regulated companies.
We also cooperate with federal, provincial, territorial, and international partners on security issues.
Related documents
Features
Date modified: