Commissioners
Mark Watton, Lead Commissioner
Mark Watton was named Lead Commissioner in August 2022. He was first appointed as a Canada Energy Regulator (CER) Commissioner in 2019. Mark Watton has twenty-five years of experience in government and public policy development, litigation and regulatory law. First called to the bar in Ontario, he practiced as a litigator in the Toronto office of Fasken Martineau DuMoulin before relocating to Calgary to join the CER's predecessor, the National Energy Board, as legal counsel, advising on multiple major project applications. Before he was appointed a Commissioner with the CER, he held the position of Senior Legal Counsel with TC Energy. He has also worked in executive and policy advisory roles for numerous cabinet ministers in several federal government departments and the Prime Minister's office. He graduated from Dalhousie University Law School (LL.B.) with specializations in Marine Law and Business Law. Mr. Watton also holds a Bachelor of Social Sciences (Political Science) from the University of Ottawa and is a member of the Alberta Law Society.
Kathy Penney, Deputy Lead Commissioner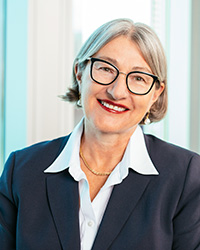 Kathy Penney was a permanent member of the Canadian Nuclear Safety Commission until her appointment as a Commissioner. She has over 25 years of regulatory, environmental, health and safety (HSE) experience in the public and private sectors. Ms. Penney has expertise in environmental assessments, HSE assurance and compliance processes, quasi-judicial and federal government project hearings, community consultation, and engagement with Indigenous peoples. Her career includes roles with Jacques Whitford, in Newfoundland and Labrador and in Western Canada, and with Royal Dutch Shell, both in Canada and in Australia. Recently she was on the Assessment Review Board for the Rocky View County. She holds a Master of Science from the University of British Columbia and a Bachelor of Science from the University of Toronto. Ms. Penney is a Pearson College scholar and holds an Executive Management Certificate from Queen's University.
Trena Grimoldby, Commissioner
Trena Grimoldby was appointed as a Commissioner in 2019. She is a lawyer and an adjudicator. Prior to her appointment as Commissioner, she was a Public Chairperson at the Insurance Councils Appeal Board of Alberta (ICAB). She has also previously served as in-house counsel to two multi-national energy companies (Shell Canada and PETRONAS Canada), a midstream energy company (Pembina Pipelines Ltd.), the provincial oil and gas regulator in Alberta (the Alberta Energy Regulator (AER)), and in a private practice setting. She is the CER's representative at CAMPUT (the Association of Canada's Energy and Utility Regulators), where she is a member of the Executive Committee, Chair of the Regulatory Affairs Committee and Lead of the Women in Energy Community of Interest. She holds a Bachelor of Laws from the University of Alberta and a Bachelor of Arts with a specialization in English from the University of Alberta.
Wilma Jacknife, Commissioner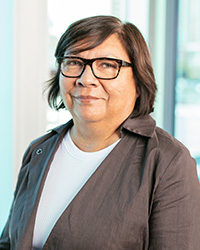 Wilma Jacknife served as a temporary member of the National Energy Board until December, 2018. She has more than 20 years of experience in practicing law, both in private practice and as legal counsel for Cold Lake First Nation in Alberta. She specializes in First Nations governance and law-making, consultation and negotiation of impact benefits agreements, business development, administrative law and employment and estates law. Ms. Jacknife also has participated in joint task forces to develop legislative frameworks for First Nations in Canada (Specific Claims Tribunal Act, Indian Oil and Gas Act and regulations). Ms. Jacknife holds a Doctor of Juridical Science in Indigenous Peoples Law and Policy and a Master of Laws in Indigenous Peoples Law and Policy from the University of Arizona – College of Law and a Bachelor of Laws from the University of British Columbia and two Bachelor of Art degrees from the University of Alberta.
Stephania Luciuk, Commissioner
Stephania Luciuk was appointed as a Commissioner in 2019. Prior to her appointment, Ms. Luciuk was in legal practice for over 20 years, with extensive experience in the energy sector, serving as in-house counsel at Imperial Oil Limited and Canadian Oil Sands Limited and in private practice with Macleod Dixon and Fasken Martineau DuMoulin. Her legal practice has spanned regulatory, commercial and environmental work as well as engagement with Indigenous peoples related to conventional/unconventional oil and gas development and pipelines. In 2017, Ms. Luciuk was appointed as an assistant professor in the Bissett School of Business at Mount Royal University. She also served part-time as a commissioner of the Appeals Commission for Alberta Workers' Compensation and as a mediator for the Provincial Court of Alberta. She is currently the CER representative to NARUC (the National Association of Regulatory Utility Commissioners). Ms. Luciuk holds a Juris Doctor from Osgoode Hall Law School at York University and a Master of Laws in international environmental law, focused on freshwater protection, from Dalhousie University.
Mélanie Chartier, Commissioner
Mélanie Chartier is a lawyer, with more than 20 years of experience in a variety of areas, including aboriginal, environmental and administrative law, having practiced primarily with the Department of Justice. Ms. Chartier also served as a Member of the Immigration and Refugee Board of Canada from 2016 to 2019. Most recently, Ms. Chartier served as Crown Counsel at the Public Prosecution Service of Canada where she prosecuted regulatory offences. She is a passionate advocate for official languages and has occupied various roles promoting official languages within the federal public service as well as in her community. Ms. Chartier holds a Bachelor of Laws (civil) from Laval University, a Certificate of Qualification in common law from the National Committee on Accreditation, and a Master of Laws from the University of British Columbia, focused on the Crown's duty to consult with Indigenous peoples
Sandor Sajnovics, Commissioner
Sandor Sajnovics was appointed a Commissioner in May 2023. Mr. Sajnovics has over 15 years of experience as a lawyer and accountant in both government and industry, including roles involving compliance auditing and environmental, regulatory, and Indigenous law. He is a lawyer and accountant (CPA, CGA) and holds a Bachelor of Laws, a Bachelor of Arts in Economics and a Bachelor of Commerce all from the University of Manitoba. Prior to his appointment, Mr. Sajnovics was legal counsel for the Department of Justice, supporting Crown-Indigenous Relations and Northern Affairs Canada. He also previously served as general counsel for the South Calgary Primary Care Network, commission counsel for the Alberta Utilities Commission (AUC), legal counsel for KGHM International Ltd., legal counsel for Cenovus Energy Inc., and as a regulatory analyst and auditor at the Government of Alberta, Department of Energy.
Date modified: