Fact Sheet: Pipeline integrity
Oil and natural gas pipelines are made from steel piping which is buried beneath the ground. The NEB regulates over 73,000 km of pipeline. The most important part of our job is keeping those pipelines safe. One way we do that is by requiring companies to test the integrity of their pipelines.
Before the NEB will allow a pipeline to become operational, the company has to submit testing results for thorough analysis by NEB professional engineers. This is part of a larger requirement for companies to have an integrity management program in place to help prevent, manage and mitigate issues that could affect public safety and the environment.
Assessing a pipeline's integrity
There are three main ways to evaluate the integrity, or condition, of a pipeline:
Internal (in-line) inspections
Direct assessment of the pipe,
Hydrostatic testing
In-line inspections
In-line inspections tools are used to identify, locate, and measure anomalies. An instrumented vehicle is propelled through the pipeline and provides highly detailed information about the interior and exterior of the pipeline. There are three types of anomalies looked for:
Metal loss (or corrosion)
Cracks
Changes to the shape of the pipe
The pipeline must allow for the passage of the tool and have specific equipment in place to handle the equipment required.
Example of a tool:
Magnetic flux leakage tools use magnetic technology to detect, discriminate and size metal loss in liquid and gas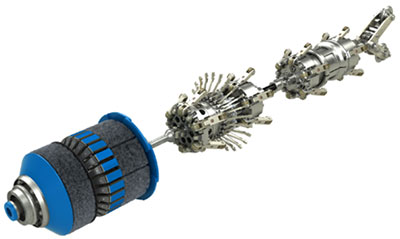 Image provided courtesy of PII Pipeline Solutions, a GE and Al Shaheen joint venture
Based on the test results each anomaly must be assessed to determine if it could cause damage. The company would then address significant issues and make required repairs to the pipeline. Many types of defects can be assessed using the correct in-line inspection tools.
Examining the pipe
Inspection results are validated through integrity digs where you excavate the pipeline to evaluate it.
Hydrostatic testing
Hydrostatic testing, or hydrotesting, is one of several commonly used methods to verify the integrity, or condition, of the pipeline. Essentially this is testing a pipeline for strength and leaks. The pipeline is filled and pressurized with water, and then examined for leaks or ruptures.
A hydrostatic test gives you a snapshot of a single point in time; it does not provide the probability of future issues with the pipe.
Continued vigilance
Regardless of the method used, or the combination of methods used, the NEB reviews the results presented by the company to ensure the pipeline can be operated safely. Only if the NEB determines the pipeline is safe will it be allowed to operate. Should companies fail to live up to their commitments around safety and environmental protection, the NEB does not hesitate to take strong enforcement action.
Date modified: