Pipeline Profiles: Trans Quebéc & Maritimes
Pipeline system and key points
Section updated June 2020
The Trans Québec & Maritimes pipeline (TQM) transports natural gas in the province of Québec. The pipeline commenced operations in 1982. At the end of 2016, regulated assets include 572 km of pipeline and various auxiliary infrastructures. Gaz Métro Holding Inc., a wholly-owned subsidiary of Gaz Métro Limited Partnership and TransCanada PipeLines Limited are the general partners of TQM.
TQM extends from an interconnect with the TransCanada's Canadian Mainline near Saint Lazare, Québec, to a point near Québec City in the municipality of Lévis on the south shore of the St. Lawrence River. TQM also extends from Terrebonne, north of Monteal, tro a point on the Canada-U.S. border near East Hereford, Québec. The TQM pipeline has 31 delivery points and two compressor stations.
Key points on TQM include:
East Hereford – export interconnect with the Portland Natural Gas Transmission System at the Canada-U.S. border near East Hereford, Québec. TQM delivers natural gas customers in the U.S. states of Vermont, New Hampshire, Maine and Massachusetts.
Saint Lazare – interconnect with TransCanada's Canadian Mainline near Saint Lazare, Québec. TransCanada's Canadian Mainline delivers natural gas produced in the Western Canadian Sedimentary Basin and the Appalachian Basin.
Pipeline map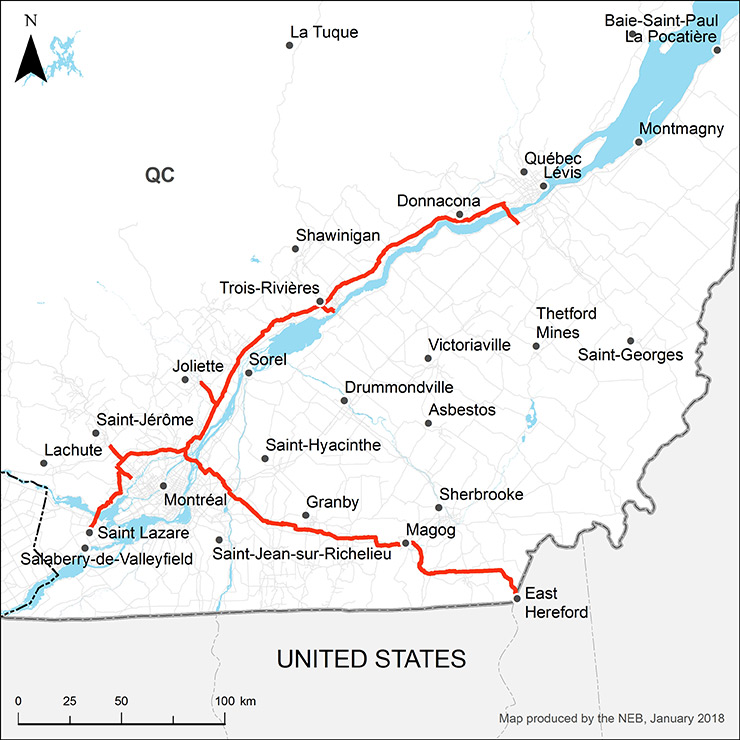 Source: CER
Text version of this map

This map provides an overview of the Trans Québec & Maritimes pipeline.
CER documents related to the construction, operation and maintenance of the TQM pipeline can be found here: TQM pipeline regulatory documents [Folder 90703].
You can see the TQM pipeline and all CER-regulated pipelines on the CER's Interactive Pipeline Map. The map shows more detailed location information, the products carried by each pipeline, the operating status and more. You can also view a map on TQM Pipeline's website.
Throughput and capacity
Section updated quarterly (early March, mid-May, mid-August and mid-November)
Tolls
Section updated June 2020
A toll is the price charged by a pipeline company for transportation and other services. Tolls allow pipeline companies to safely operate and maintain pipelines. Tolls also provide funds for companies to recover capital (the money used to build the pipeline), pay debts, and provide a return to investors. The interactive graph below shows the TQM T-1 firm transportation toll for the system per month since 2006.
Open data can be freely used and shared by anyone for any purpose. The data for these graphs are available.
TQM tolls are calculated in accordance with a toll settlement for 2017 to 2021 and are cost-based. The CER approved TQM's tolling methodology in February 2017 (Order TG-001-2017) [Folder 3179270]. The Canadian Mainline has a firm contract for all the capacity on TQM and demand charges are paid by TransCanada PipeLines, regardless of flows.
Official CER documents related to the traffic, tolls and tariffs for TQM can be found here: TQM toll documents [Folder 92841].
A list of shippers on the TQM pipeline is available in an annual filing TQM submits to the CER, Application for TQM 2019 Final Tolls (Contract Quantities, PDF page 15 of 26) [Folder 3760584].
Abandonment funding
Section updated June 2020
The CER requires all pipelines to set aside funds to safely cease operation of a pipeline at the end of its useful life. In 2016, TQM estimated it would cost $116 million to do this. These funds will be collected over 25 years and are being set aside in a trust.
Table 1: Trans Quebec & Maritimes Pipeline Inc.'s abandonment trust fund balance

| | 2015 | 2016 | 2017 | 2018 | 2019 |
| --- | --- | --- | --- | --- | --- |
| Trust fund balance ($) | 5 257 000 | 10 158 000 | 15 585 000 | 21 338 000 | 28 609 000 |
Official CER documents related to abandonment funding can be found here, sorted by year and by company: abandonment funding documents [Folder 3300366].
Financial information
Section updated June 2020
Pipeline companies report important financial information to the CER quarterly or annually. A solid financial position enables companies to maintain their pipeline systems, attract capital to build new infrastructure, and meet the market's evolving needs. The data in this table comes from TQM's Quarterly Surveillance Reports [Folder 155540].
Safety and Environment
Emergency management
Section updated June 2020
The CER checks to make sure companies are keeping pipelines safe by doing inspections, in-depth safety audits, and other activities. Yet, even with these precautions, an emergency could still happen. Sound emergency management practices improve public safety and environmental protection outcomes, and provide for more effective emergency response.
The CER holds its regulated companies responsible for anticipating, preventing, mitigating, and managing incidents of any size or duration. Each company must have an emergency management program that includes detailed emergency procedures manuals to guide its response in an emergency situation. We oversee the emergency management program of a regulated company's projects as long as they operate.
The CER requires companies to publish information on their emergency management program and their emergency procedures manuals on their websites so Canadians can access emergency management information. To view Trans Québec & Maritimes' Emergency Response Plans, view TransCanada's Central Region and Eastern Region plans at its Emergency Preparedness website.
Date modified: