ARCHIVED – Canadian Refinery Overview 2018 – Energy Market Assessment
This page has been archived on the Web
Information identified as archived is provided for reference, research or recordkeeping purposes. It is not subject to the Government of Canada Web Standards and has not been altered or updated since it was archived. Please contact us to request a format other than those available.
Refined Petroleum Product Supply and Demand Balance
Canada is the seventh largest crude oil producer in the world. Despite this, Canadian refineries process less than 30% of that crude oil. (Figure 7) This is mainly because of the size of Canada's refining industry compared to the resource size, the location of its refineries, and the lack of cross-country pipeline connectivity. Canadian refineries operate mostly to meet domestic needs, with some exports.
Most refineries, including those in Canada, do not operate at 100% capacity. This is mostly due to planned/unplanned maintenance and outages. In 2017, Canadian refineries operated at 84% of their capacity.
Figure 7: Refined Product Disposition – 2017 Footnote 1
Source: Refined Products: CANSIM 1340004, Crude: CANSIM 1340001,Crude Oil Production: CANSIM 1260003
Description:

This chart illustrates 2017 supply and dispositions for refineries in Canada. Canada produces just over 4 million barrels per day of crude oil and only refines 30% of that crude oil in Canadian refineries. The remaining crude oil used in Canadian refineries is imported. Canadian refineries meet domestic demand. Exporting more refined products than it imports.
Figure 8: Canadian Crude Oil Receipts by TypeFootnote 2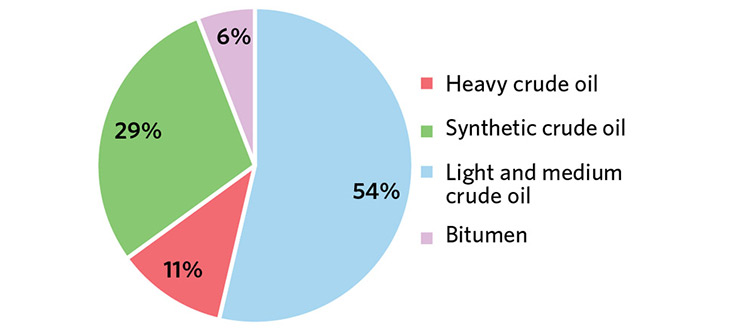 Source: CANSIM 134-0001
Description:

This chart shows Canadian crude oil receipts by crude type. January to October 2017, Canadian refineries processed 54% light crude oil, 29% synthetic crude oil, 11% conventional heavy crude oil and 6% bitumen.
Figure 9: Canadian Production by Crude TypeFootnote 3
Source: CANSIM 126-0001
Description:

This chart shows Canadian crude oil production by crude type. The average crude oil production by crude type for January and February 2016 is 39% bitumen, 28% synthetic, 22% light and medium crude oil and 11% heavy crude oil.
In 2017, over half of the crude oil processed in Canadian refineries was light conventional crude oil. Slightly over one-third of refinery receipts was crude oil from the oil sands (either bitumen or synthetic). (Figure 8) The rest is conventional heavy oil.
In 2016, almost 40% of Canadian production was crude bitumen, followed by synthetic, light and medium, and heavy crude oil. (Figure 9).
Figure 9 shows that bitumen accounts for almost 40% of Canadian production while making up less than 10% of total crude oil refined in Canada. Canada exports most of its bitumen production to the U.S.
Figure 10: Canadian Crude Production vs Refinery Receipts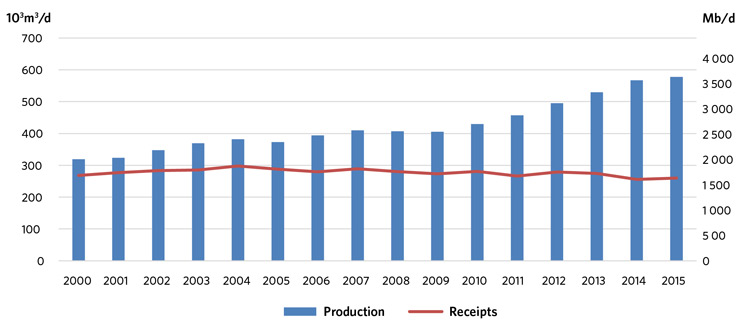 Source: Production: CANSIM 126-0001 and Receipts: CANSIM 134-0004
Description:

This graph compares Canadian crude oil production with refinery receipts. Canadian refinery receipts have been dropping since 2004 when they were almost 300 103m3/d to 260 103m3/d in 2015. While Canadian production continues to grow, from slightly over 2 MMb/d in 2000 to over 3.6 MMb/d in 2015.
Crude oil receipts at Canadian refineries have not grown since 2000; however, Canadian production has increased. (Figure 10) Canadian refinery production peaked in 2004. Between 2004 and 2015, refinery production dropped nearly 15%.
Date modified: